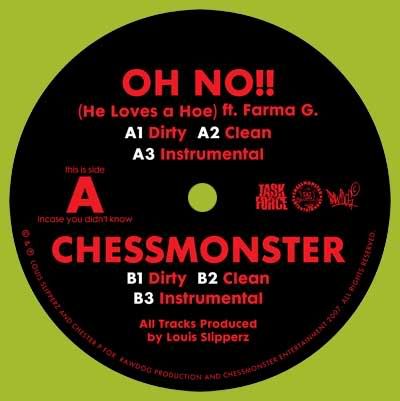 This is a slick 12" from the UK Hip-Hop scene, from the Task Force's Chester P. I hate saying that, because Hip-Hop is one of the most universal genres under the sun, with dope shit coming from Hollis, Queens to Zimbabwe. The thing is, if an American MC dropped a single entitled "Oh No (He Loves A Ho)", the post-Imus ethics invasion would have a field day! At least this track tries to provide some comedy and storytelling to the mix, and not just putting down the female for 3 minutes. On the first verse, Chester P tries to convince his boy that he should be careful around the chick he's falling head over heels for, but it doesn't matter – "she loves his dough", and puts it on him to the point where dude falls head over heels. You gotta love the swing in this beat (produced by DJ Louis Slipperz), and the fact that Chester (and his brother, Farma G) can touch on so many topics with such a rapid fire flow. "Chessmonster" marries some solemn guitar strums with a stream of consciousness flow, almost sounding like a real MC mantra that Chester P blazes to make sure he is centered. Dude is really ill with the flow, and knows how to string a line or 50 together. If I tried placing all of the quottables in this review, I'd basically be typing out all of the lyrics! Watch out for his forthcoming LP, From The Ashes, which should be available in October, and get familiar with how LDN do!

For audio and more info on this release and forthcoming Chester P output, check out his MySpace page.

This is the first of (hopefully) many reviews for 12"/CD singles on rock the dub. Any artists or press agencies looking to get their materials covered on rock the dub, please get at me.