Archive for 04/01/2010 - 05/01/2010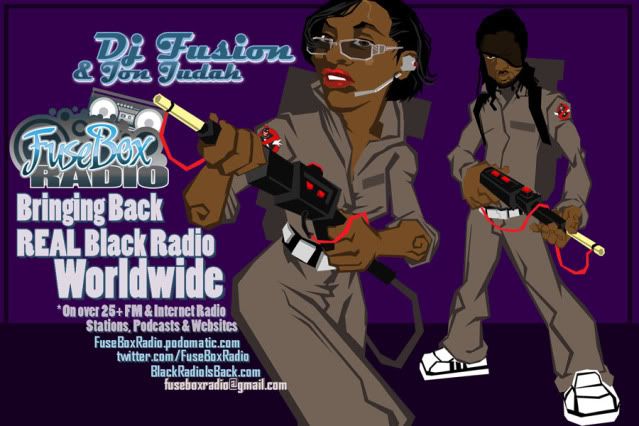 ** We had a few problems in with the studio computer for sending out this week's most recent radio show (Geek Squad repair shop, here we come), but luckily we can keep it moving. **
** This week's episode of the syndicated FuseBox Radio Broadcast is one of our many favorite flashback episodes from the vaults...hope you enjoy it! :) **
Player (via Podomatic feed):
Direct mp3 Download
(right click and "save as")
Direct mp3 Download Backup
(right click and "save as"; via
Blip.TV
)
This is the latest episode of the syndicated
FuseBox Radio Broadcast
with DJ Fusion & Jon Judah for the week of April 28, 2010 is a rebroadcast of the April 15, 2009 show which contains some Old and Classic Hip-Hop & Soul Music, news and commentary.
This commentary from that show focused on the entire mainstream media (MSM) coverage about the Somali pirate scenario, the rise of more extreme right-wing organizations in the U.S. since the election of Pres. Barack Obama (and why in a way, it's a pretty silly scenario on multiple levels in regards to being scared of certain Black People) and some other things here and there.
We had a great interview with Dave Kusek (instructor at Berklee School of Music amongst other accomplishments), the co-author of book
The Future of Music: Manifesto for the Digital Music Revolution
.
Some of the subject matter we touched on during the interview included how technology has totally changed the current state of music industry in the past 10 - 15 years, how hard working independent artists currently have some of the most optimal chances to distribute, promote and sell their music to the masses due to things like internet innovations (Web 2.0, self-distribution options for music & content, etc.), where the current music industry should change to be both profitable and give music to the people they way they want, reaching out for niche audiences (esp. in the different genres of Black Music) and more!
Please check out Mr. Kusek's official site for
The Future Of Music: Manifesto for the Digital Music Revolution
book (which also has lots of great articles about the future of the music industry) at
http://www.FutureOfMusicBook.com
!
FuseBox Radio Playlist for the Week of April 28, 2010 (directly from the week of April 15, 2009) (in no particular order)
Funky Fresh Crew feat. Afu-Ra/Drop A Jewel/Grand Central Records
Mr. Scruff feat. Pete Simpson/This Way/Ninja Tune
Mr. Lif/Folklore/Bloodbot Tactical Enterprises
DOOM/Absolutely/Lex Records
Foriegn Exchange feat. D1/Take Off The Blues/Hard Boiled Records
Kool Rock-Ski of The Fat Boys feat. Jay-Z/Can We Talk/Uncle Louie Records
Q-Tip feat. Kanye West & Consequence/We Fight We Love RMX/Universal Motown
Scratch feat. Musiq Soulchild/Tonite/Gold Dust & !K7
Busta Rhymes feat. Spliff Star & Show Money/I'm Back/Flipmode, Violator & Universal Motown
Camp Lo feat. Yahzarah/Regulate/Soul Fever
Trillogy/Warning/Starr Media Group
Balkan Beat Box/Hermetico (Dub Gabriel Kush Arora RMX)/JDub
Asher Roth feat. Cee-Lo/Be By Myself/SchoolBoy, SRC & Universal
Rick Ross feat. Nas & Kevin Cossum/Usual Suspects/Slip-N-Slide, Maybach Music & Def Jam
Mistah FAB/Teenage Thug/Faeva Afta, Thizz & Atlantic Records
David Rush feat. Pitbull & Kevin Rudolph/Shooting Star (Party Rock RMX)/Xequitive Board Ent., Mr. 305 & Koch
Vybz Kartel/Without My Own/DJ Smurf Muzic
Chae Hawk/Meal Ticket/ChaeHawk.com
Blaq Poet/Ain't Nuttin' Changed/Year Round
Ace Hood feat. Akon & T-Pain/Overtime (inst.)/We The Best & Def Jam
Skull Gang feat. Juelz Santana/I Am The Club (inst.)/Skull Gang & E1
Jim Snooka/Kill 'Em All (inst.)/Never So Deep Records
Ace Hood feat. Akon & T-Pain/Overtime (inst.)/We The Best & Def Jam
Da Union/Gimmie Ur Luv (inst.)/White Label
Stat Quo/Stylin' (inst.)/White Label
Mims feat. Letoya Luckett/Love Rollercoaster (inst.)/American King & Capitol
PLUS Some Extra Special Hidden Tracks in the Jon Judah Master Mix w/ Old School Classics and more MySpace.com Independent Music Finds
Current FuseBox Radio Broadcast Radio & Internet Affiliates (as of this week):

UrbanNetwork.com's The Mix Internet Radio Station - UN Power Jam Radio

(owned by Urban Network Magazine)

OKRP.com

,

ReeWineMusic.com/ReeWine Radio

,

Progressive Blend Radio

,

Sprint Radio Extra/mSpot (via the Worldwide Alpha Communications Network)

,

SouthBound.FM

,

DeadBeat Radio

,

CrackAudio.com

,

TheBestJams.com/The Best Jams Radio

,

Radio CPR 97.5 FM

,

FlyTunes.FM/FlyCast

,

Planet Urban (Austrailia)/PlanetUrban.com.au

,

AmalgamDigital.com

,

BlockJams.com

,

ConspiracyUK.com

,

FONYE Radio

,

VI Radio

,

DurdeeSouthRadio.com

,

Beyond.FM

,

MyBlockRadio.net

,

Rutgers University Radio, WRSU 88.7 FM

,

Stop Beefin' Start Eatin' Radio

,

Ceesiety Radio

,

Mixshow Blast Radio

,

Slip-N-Slide DJs Podcast

,

The Best Jams

,

ExtravaGangsta Radio

,

HipHopSoulRadio.com

,

Digiwaxx Presents: The Blast

,

White Folks Get Crunk for DJs

,

Legion Music & Media

,

UnderWorldMixRadio.com

,

MixLaWax Radio

,

Trunk Hustlers Online

,

907 Jamz

.

The6.FM

,

Nilo Radio

,

1.FM Jamz

,

Blayze University Radio

,

Blip.TV

,

iBlog126.com

,

Miro

,

WSOUF.com

,

True Fire Radio

,

StreetsD.com (Streets Mos Magazine Radio)

,

Rock The Dub

,

Last Word Online

,

Soul Pitch Hustle

,

Black Soul Rhythms

,

Honey Magazine

,

i95.FM

,

The PRess Junkie

,

Planet Ill

,

Ground Up Radio

,

W.O.W. Radio

,

DIRadioCast

,

SWURV Radio

,

BlackCoffeeChannel.com

(Coming Soon),

Gutta Muzik (HD) Radio

(Coming Soon)
Subscribe to get the weekly episodes of the syndicated FuseBox Radio Broadcast with DJ Fusion & Jon Judah!








Stealth "Taurus": Final leak to 2nds, Stealth's birthday present to the Internets-at-large that drops on his birthday, April 30th. Check out A Piece Of Cake, his present from last year, then hit us up on Friday for 2nds.


Ant THHE and Craig Bass link up for another batch of "he picks the beats, he raps over them" with The Hip Hop Effect Vol. 2. If you missed the first one, do the knowledge then hit the jump.

Featuring David Guetta & Will.I.Am:


Eminem "Not Afraid" (prod. by Boi-1da): Lyrically, this is the Em I like to hear. Introspective, without all of the weird voices and fart noises. He's at his best when he's examining his own self, and it takes a pretty bold person to admit that their last album was "eh". I could've done without the chorus that, while very catchy, is just not something I'm feeling - not really into Eminem "singing". Why do rappers have to sing? Rap and let someone else sort that out. And that third verse, with him talking about raising the roof and lifting the bar? Awesome.



CDQ via Team Supreme.

Also, Rap Radar has posted Eminen's interview with Angela Yee from this morning.
A.R.M. "Resist": Just like I told you the other day, Two Africans And A Jew, Vol. 1 drops on may 11th; limited physical copies will be available for pre-order on their new website (arm4arm.com) and at Soundfest 2010, with digital versions being sold as well. Enjoy this non-album freebie track for now, though.
Jennifer Lopez "Radio" (prod. by David Guetta): So J.Lo and her donk decided to remake Donna Summer's "On The Radio". Why? Because the shit J.Lo has been making hasn't been getting radio play. Why she felt the need to have Guetta produce this is beyond me - it's not far off from club fodder that other producer make on the regular. Outside of all of that, this might be the lane she needs to go in on, even though I can see a video for this being less about her dancing and more about her glammed up like a disco queen...



MP3 via OnSMASH.
Soul Khan "Soulstice": If you're not up on Soul Khan, whether its from the battle circuit or with his Brown Bag AllStar collective, know one thing: he's a beast. He's got an album coming this summer, and is attacking the blogs something serious. Take this opening salvo as an intro to homeboy's cipher. You won't be disappointed. Shouts to J57.


Mr. Upgrade "Hi-Light Reel" (prod. by Jett. I Masstyr): Another cat from "New Texas" flips a Jett. I beat and compares himself to one of my favorite basketball players going up (guess who). I love this emerging sound of more lyrical Hip-Hop coming from Tejas. Good to know that an area isn't defined by the more popular cats coming from there. Big up @MisterUpgrade.
Yesterday, two remixes dropped. I love when artists trade remixes for each other - it's like a mutual appreciation thing. What's ill about these is that both Sub Focus and Rusko are seen as the new-breed torchbearers for their respective scenes, but are also making strides outside of their genres into a more mainstream place. The only odd bit that Sub Focus actually comes with the dubstep remix, while Rusko's more club-happy funkery. Enjoy.


And no, I'm not sure why I used a picture of
Rashida Jones
. Too much of
The Office
?
Game ft. Justin Timberlake & Pharrell "Ain't No Doubt About It": OK so Game's trying to buy a Billboard spot now, eh. This track would've been hot if it came out in 2002 and was on Justified. It's a really good as a Justin Timberlake song. Game on it? Why? Dude, you are not that "sexy" nigga that has mass appeal, stop it. You might be the bomb for those hoodrats, but please believe - this is NOT the look for you, buddy.

And since when was it OK for blue-eyed soul singers to be harmonizing your ad-libs? This just SCREAMS "turn me the fuck off/find a new single".



MP3 via 2DBz.
Drake "Find Your Love" (prod. by Kanye West): I kinda went ham on the tweets this morning, so if this is a rehash for some of your, I'm sorry. What in the Kraftwerk is going on here? I was hoping this wasn't gonna be 808s & Heartbreak Drake, but alas, I was wrong. And it's bad. @JSmooth995 was on the money with the Dwayne-esque "hey HEY hey" (shouts to @bdotTM for the Fat Albert reference), but I just don't know. I actually don't MIND the beat, but when those pianos and synths come in, I instantly cringe. It just SCREAMS "accept my weirdness with something you can latch onto". Drake's singing isn't my cup of tea - I wasn't a fan of So Far Gone because of it, and based on the steep decline in dope tracks that've leaked from Thank Me Later, I won't be thanking that nigga for shit.



MP3 via Nah Right.
Nas & Damian Marley "Friends": This is a lil' more roots-y, which is ill. The more I hear from the album, the more I want to do two things: own it all now, and, you know, get high. This is probably a good weed-smoking car-trip album. Glad it's living up to expectations.



Shouts to HHNM.

Bonus Beats Nas & Damian Marley ft. Lil' Wayne & Joss Stone "My Generation" [via Nah Right]

previous Nas & Damian Marley Distant Relatives Music Meeting (Pt. 3)
Business As Usual, Official Street Radio and some beautifully buxom thick-bottoms present another DJ NoPhrillz-mixed BANGER, this time from D.O.E. Boy. I'm not sure what Lo Horses are, but I think they have something to do with tankass. I dunno.

DOWNLOAD D.O.E. Boy Lo Horses & Hoes
Here's an ill mixtape from DJ NoPhrillz with a long ass title: Schuman's National Underclassmen Presents: NUC You Know! Vol 1 (The Get Your Game Right Twenty.10 Edition. This is sponsored by Official Street Radio and NationalUnderClassmen.com. Tape features heat from Fabolous, Tone Trump, J Cole, Wale and many more. Get your game right, bitch.

DOWNLOAD Schuman's National Underclassmen Presents: NUC You Know! Vol 1
DJ Booth's dropped the 12-track sophmore effort, High Profile, from The Gent$ (aka Pugs Atomz, Wes Restless and Ill Legit), and it's ill. I'm a sucker for niggas sticking to concepts, and throughout the leaks and promo for this project, they've done a great job of keeping the themes consistent. Hit the jump for the goods.

Whygee "RED (flashylights)": @Whygeezy laments on his dead Xbox... but that's his fault. The fuck you buying a Xbox for? My Wii never done that before!


Jermiside & Danny Diggs ft. Von Pea "Didn't I Tell Ya": Dope leak from Jerm & Diggs' Middle Classic, which is dropping on HiPNOTT on May 25th. Refreshing shit to wake up and smirk at the doubters and naysayers. #Lessondary FTW.



Via 2dopeboyz.

previous Donwill & Von Pea ft. Jermiside "Syrup Sandwich"