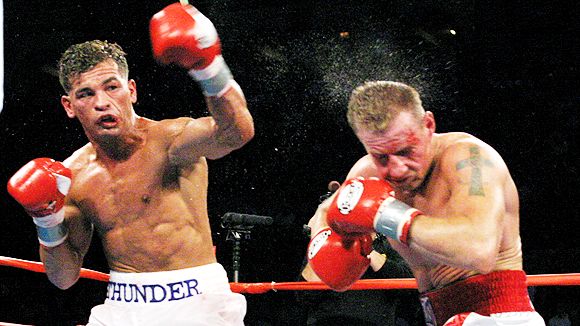 Fuck. Boxer
Arturo Gatti
, 37,
was found dead this morning in Brazil
. Authorities suspect foul play, as his blood-stained body was found in the apartment he was staying in while on a second honeymoon with his wife.
This hits hard only because during our courtship,
the epic trilogy of fights
that Gatti and
Mickey Ward
engaged in were parts of our dates. I actually watched all three of them with her, and its just something that we've shared, so much so that one Christmas she got me a pair of signed boxing gloves, and
a boot of all three fights on DVD
. It's a shock to the system, and a really epic blow to dude's legacy as a tough-as-nails fighter.
Rest in peace, Gatti.
EDIT
Word is that Gatti's wife,
Amanda Rodriguez
,
might be a prime suspect
in this?