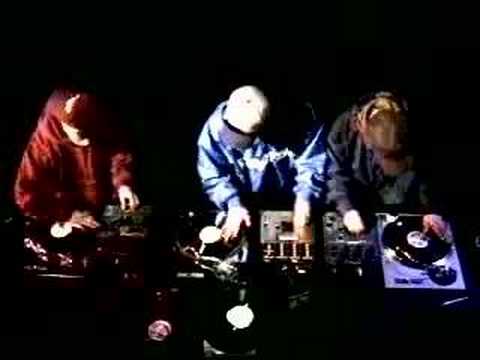 In this odd mood right now - not sure if its the snow or the stress, but I can't listen to anything but old tapes from the
Invisibl Skratch Piklz
; their "practice sessions", i.e. them just throwing a beat on and dumbing out, were so sick to me when I was a high school punk. Oddly enough, I got more in tune to the Internets while scouring for info on
Q-Bert
and the crew, and followed turntablism for a while. Anyways, I found some old tapes online and figured I'd share my spoils...
Remember, these are all from the late '90s (I wanna say 1997-1998), and aren't for heads who can't really fuck with 60+ minutes of fresh beats and
only
scratch patterns.
Underarms R Fun
has the same beat for 62 minutes. And it's fucking sick.
Buck Tooth
and
Stylus Wars
are more varied - each segment is like 5-7 minutes, with some classic beats and other in-house productions, and some quirky interludes. This is a lil' trek into what I was about while mainstream Hip-Hop got rich during
the

Clinton

era
. And boy was I into this shit heavy. I actually copped
the

Stylus Wars
tape from
Princeton Record Exchange
, and in a fucked up butterfingers incident, dropped the tape as it was being tossed to me, and a heavy door at my high school crushed it. I was dumb upset. One of my favorite tapes.
Anyways, enjoy.
Bonus Beats
Invisibl Skratch Piklz Vs. Da Klams Uv Deth
Snowed In EDIT
Figured I'd share some more I'm finding...